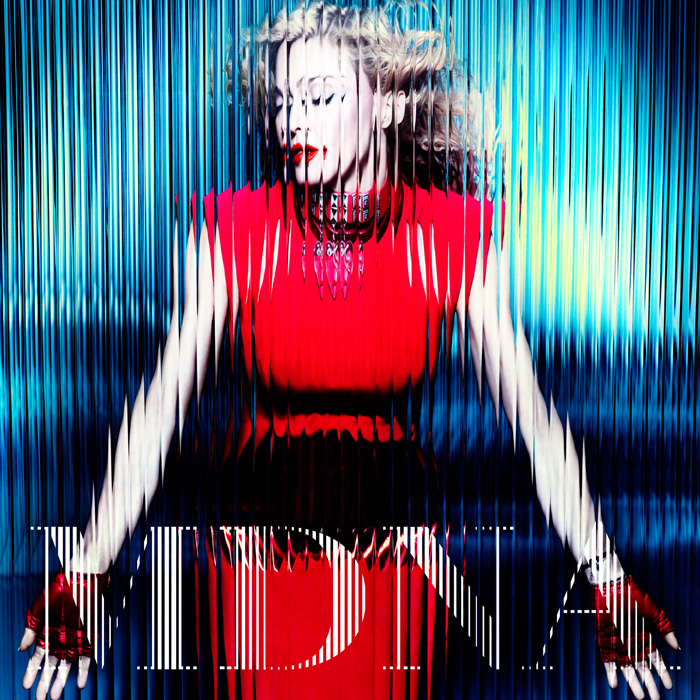 "Girl Gone Wild" Lyrics Video Now On Vevo
February 27, 2012
The "Girl Gone Wild" lyrics video has just been added to Vevo's Youtube channel!

Check it out!!




You must be a logged-in member to add comments.
I love it! Full of energy. It is going to be a great edition to the clubs! I love!!!!
This song is full of energy. I like!!! <3 <3
I jam to this song everyday! I love it! Can't wait to see it performed live!
WOW!, I have not words to describe the halftime Super Bowl Show, just incredible..... !!!! I LOVE YOU!
i need you here in Argentina again!!!
Great energy - definite dance floor pleaser! Way to go, Madonna!!
Love this song, if this does not go to Number 1, there is something wrong. Can't wait to hear the entire new ablum, counting down the days.
Awesome!! Hurry up n come 2 Australia or i'll see you somewhere else in the world :)
in St. Louis today...we're wai-ting. You love to tease us, and we love you for it. LOVE the new tune. Bad girls have more fun.
grande ragazzaccia sarà ancora un successo planetario ti amo ti amo ti amo
amazing, perfect dance song, love it...
Very cool and hot song and her voice is so strong and perfect ,sexy!Madonna ,we wan't MDNA ,can't wait to hear the whole album ,oh and thanx for sharing this amazing song and lyrics with us!
Girl Gone Wild,Incredible Song! Wow!
You just get better and better....we love you! Front row Dallas baby, see you then!
HEY - EY- E LOVING THIS NEW DANCE TRACK FROM M.D.N.A
This song is going to be a hit in clubs, it gos down the techno road with lose your self in the beat feel, and now i can see how the title mdna is starting to relate to this cd. The beat is fast in minimal but has the rhythmatic of a heart beat as it would beat as you dance kind of way, this is very smart, studies show if you can match the rhythm of peoples heart beat it automatically syncs to the people hearing it, causing people to dance jump and get into the groove you could say! It does sound like a heart beat of a 18 year old, lol but thats ok i work out,LOLOLOL, The singing is perfect match for this kind of music,the music it starts slow and builds it self, it has a bit a tribalistic feel to it, but a fun pulsating beat that does't have a dated feel to it. It also has this sonic in your face sound, that may intimidate some that if you don't want to jump on to this song your feel left behind. Now thats ballsy!!! The lyrics has the lets have fun be young and party message to it, which i feel could also intimidate some, were not talking about vintage or classic madonna here this is join me or get the f-ck out kinda lyrics. With this song madonna is not falling back into a nostalgia which im sure some would like to hear her get back to,NOPE, instead she jumping forward in her music that i can seen any club goer at any age group younger or older could get into, This song is pure clubbing!!! The best part i hear from the singing is that it sounds that madonna is having fun! She sounds as she not trying to compete with who ever is out there or try to please everyone of what they think she should be but instead is saying i just want to dance and have fun and enjoy the night! and that's the kind of Madonna i like to see, she deserves feeling happy about herself and career. I really like it! but for those who are not into techno im sure this song wont get them into that kind of music. This sounds so far that this album is going to be a really fun album to listen too. The song kinda begins as it end fast and suddenly, i hope the cd will have a longer version cause i could really get into this! These two songs i heard so far give me all your loving, girl gone wild this cd is really sounding like a trip. and the title MDNA is now making much more sense now!
LOve this song, Its catchy and great to dance to, its going to be a good year and a great tour, Love you Madonna
I luv this song, GIRLS GONE WILD... I cannot wait to see her in New Orleans October 27th! WOO HOO babe!
This song is the kind that reminds me of the first cd I got from the madonna which was imaculate colection. I got from my mother. This song reminds me of Madonna in all respects, it reminds me of the best and it saves me from any bad thought ... it's like flying with a smile on her lips.
Let's shake our nights. kisses my queen!
I'M SO SO SO SO HAPPY THIS IS THE TYPE OF SONG I WAS EXPECTING FROM MADONNA. THIS IS THE TRUE MADONNA, THE MADONNA I LOVE!!!!!!! I WAS SO DISAPPOINTED WITH "GIVE ME ALL YOUR LUVIN" BUT NOW I FEEL SO HAPPY WITH "GIRLS GONE WILD" "MDNA" WILL BE SOMETHING TO REMEMBER. LONG LIVE THE QUEEN!!!!!!!!!!!!!!!!!!!!!!!!!!!!!!
Let's make ''Girl Gone Wild'' Madonna's 39th Top 10 hit on the Billboard Hot 100! Request the song from radio-here's a site where you can find contact info for US and international radio stations: http://radio-locator.com/
I love this song!! It makes me wanna dance all night. I can't wait for the rest of her new CD. I love MDNA!!!
Luv "Girl Gone Wild".....so dance and hot, luv the mixing and that electronic sound, that's why Madonna is the Queen!!!! Yeeaahh!!!
LOVE!!!!! BRING ME TO THE DANCE FLOOR.
YEAH"!!!! So Delighting Beat! The Perfect Working Out Song" <3 <3 <3 4 L.U.V. Era"!!!
OMG MADONNA ! ! ! Girls Gone WIld is AMAZING ! ! ! Forever QUEEN OF THE UNIVERSE ! ! ! W.E. L-U-V Y-O-U MDNA All My L-U-V KALEEM <3 <3 <3 X X X
NEWS ARCHIVES
You are one click away from all of Madonna.com's news stories! Just select a year: