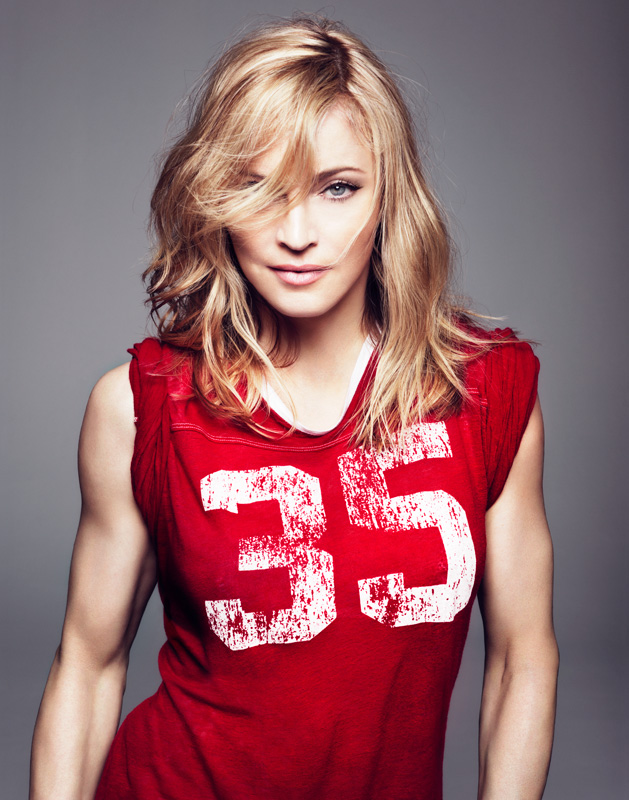 Madonna Rules Billboard.com's Readers Poll 2012
December 18, 2012
Billboard.com have just published the results of their 2012 Readers Poll. Madonna was named 2012 MVP and came at #1 in four different categories including Favorite Billboard 200 No. 1 (MDNA), Best Tour (MDNA Tour) and Best TV Performance (Super Bowl Halftime show). "There's only one queen..." Congratulations Madonna!
You must be a logged-in member to add comments.
2012 was a great Madonna year!
Can it get better than Confessions on the ...., Yes... MDNA spectacular album. She is truely inspirational to all of us... woMan... Hope u get it...
I'm so proud of you. You inspire me on a daily basis. Thank you for always giving your best.
Much Love,
Frankie Ciccone
We all could expect it, i watched the (super Bowl halftime show) loads of times, and still cant believe how spectacular and amazing is, and MDNA tour, beyond words, i just hope she goes on tour again this year! LUV U Madonna!!
It´s true! There´s only one queen... and that´s you Madonna! Love from Buenos Aires!!!!!!!!!!!!!
The Queen Madonna did it again always will be the Real and the only one Queen love Madonna 4 ever
Congratulations Icon! T'was a challenging Year 2012 for me as a New Yorker and as a survivor of Hurricane "sandy's" Wrath. My NY location was heavily destroyed by the crazy windgusts and flooding leaving Long Beach, NY like a ghost town. Dramatic as it was, the aftermath didn't stop me from watching the last leg of your MDNA Tour in Madison Square Garden...meaning, the Icon performed in the world's most famous stage in the greatest city of the world...and it was my "first"!!!The best!NO ONE ELSE...!Your successor is NOT even born yet. Thanks Icon...you will always be my ray of light.
It's no surprise you're number1! We love you always.
New videos new albums new tour! Please Madge give us even more
To my #1 Best Friend: Your brilliance and tenacity make all the world jealous. You deserve your place at the top of the heap! Thank you for keeping the flame alight!:) LoveLove, SMC
I love reading what's been written by you guys in appreciation of Madonna, billboard's favorite and my favorite too, happy new year everyone !
There are no words to even describe how amazing show you gave us! Thank you very much to you and your entire team! Bravo! 15 years, you are helping me to live and fight with the opposition (I will introduce homophobia in Russia) THANK YOU FOR ASSISSTANCE GAY COMMUNITY! WORLD WITH YOU STILL REMAINS humanity! New Year to you and your family! let them help you to be always so energetic and interesting supporting good world!
March 2012 I bought the latest Lady GaGa album and liked only one song. I was pissed so I gifted it to my daughter. In July,I decided to check out the MDNA album from the library. The next day I returned it and bought the album. I have listened to it twice every week at least since July 2012, it is now December 2012. LOVE IT and can't get enough. Every time I hear every song, its like the first time hearing it. I should be sick of it by now, but NO still love it and listen! There is Only One QUEEN...BEEYAIYOTCH!
Lady Madonna, I am proud of you! All the best!-Rabbitbunny from outside of Baltimore. Love you Madge!
...yes, there is only ONE QUEEN...
CONGRATULATIONS FROM ARGENTINA, MADONNA! WE DO LOVE YOU!!!
Madonna,espectacular tu show en CORDOBA,,ojalá vuelvas pronto!!!..CORDOBA te ama!!!!
Congratulations Maddy, you are the only one Queen and I never have doubted about it! Merry Christmas Madonna!
the movie, the perfume, the tour, the record, the Super Bowl, wooooow! it has been huge for M! Congratulations!
What a way to end the year. Madonna deserves to win. MDNA was a fabulous tour and was the highlight of 2012 for me as a fan. Have a great Christmas, then please start arranging your next tour. x
Thank you Madonna ! This was a wonderful year. I mis MDNA tour in HELSINKI for Golden Triangle.. I LOVE YOU !! MERRY X - MAS !!!!<3<3<3
#mdna tour was so amazing as it is thr whole albums! #goldentriangle was maddness and from so close you can really tell she is really everything! Big fan of her art and was impressived by her achievements. But I must confess I love her B side there so much to see and listen in her albums. Long live to the queen!
How amazing for you!!! Must feel good to still be at the top of your game after all these years!!! You're such an inspiration! Gee, wonder what Elton thinks? ;)
:) WE ARE HAPPY FOR YOU!!! ICONER MASSIMO
congrats MADONNA always keeping us proud of your accomplishments !!!!!!!
Congratulations,this has been a great year made even better by you MDNA ALL THE WAY!!
THAT IS THE WAY IT HAD TO BE. SHE WILL ALWAYS DELIVER WORKS WORTHY OF RECOGNITION. MY MDNA TOUR EXPERIENCE DURING TWO DATES IN COLOMBIA WAS MORE THAN OVER THE TOP. THANK YOU MADGE FOR GIVING ME SO MUCH THROUGHOUT MY LIFE. ALL THE LUVIN' 4 U.
NEWS ARCHIVES
You are one click away from all of Madonna.com's news stories! Just select a year: