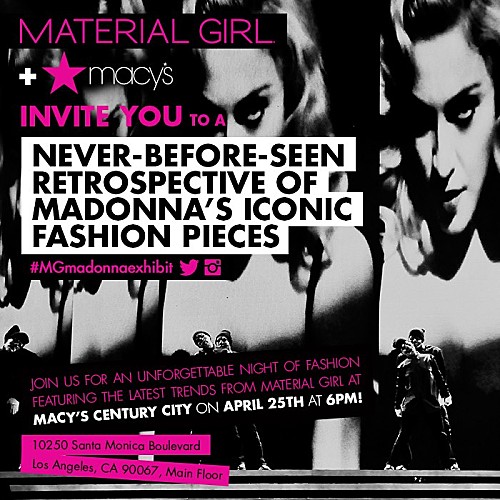 Material Girl's Madonna Pop-Up Exhibit is Tonight!
April 25, 2013
If you are in the Los Angeles area, don't miss the Material Girl Madonna fashion pop-up tonight at Macys in Century City from 6-8pm!
You must be a logged-in member to add comments.
I think madonna would wow everyone with a live performance of wearring those outfits again but in a music video as if she is having immitating herself
thanks for posting photos at Madonna Facebook-the exhibit looked absolutely invigorating, exciting, beautiful-good job everyone involved : )
hi madonna h r u / i like ur all songs especially u dear, this is my first time in joining one website , so im very interesting to meet u dear , i love u , i would like to meet u , im working in sharjah (UAE)
It was amazing! I met Guy Oseary along with other famous people and I couldnt believe I was looking at iconic costumes Madonna wore! So cool, LOVE YOU MADONNA!
It would be great to be in the Los Angeles area to visit this exhibition, but unfortunately I live and work in Toulouse, France. Could you do this exhibition in Paris, so a lot of european fans could go to see it? Thank you Madonna!! Love you always!! From your #1 fan in Barcelona now living in France.
i hope you share some photos-thank you ! i think the Material Girl wedding dress from the MTV video awards is the most iconic Madonna look of them all : )
Madonna's fashion and taste are never to be beaten by anyone ever....Good Luck, M..You deserve it; you've earned it...
Newer comments
1 - 8 of 8
Older comments
NEWS ARCHIVES
You are one click away from all of Madonna.com's news stories! Just select a year:
on this day...