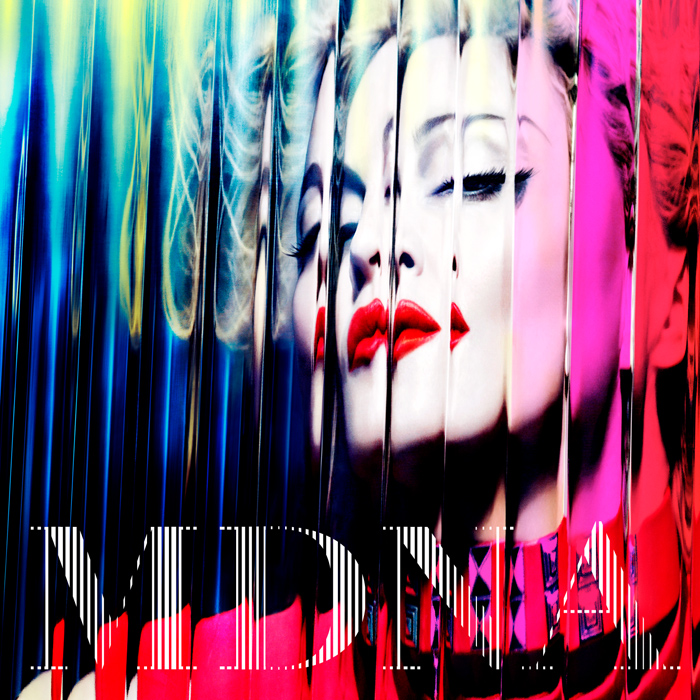 MDNA Preview - "I Fucked Up" (Full Song)
March 17, 2012
Preview a new track from the MDNA album, "I Fucked Up" (full song)! Just click below.
Preview "I Fucked Up"
You must be a logged-in member to add comments.
Beautiful song as only Madonna can do it! Thanks M! I Can Hear Her Cry in this Sad Rock Ballad! We all need Love and Forgiveness at some point in American Life because it's the only thing that will get us through in society. To you Madge, stay strong, stay brave and stay proud! Keep Expressing and Outdoing Yourself! Much love from outside Baltimore, Rabbit Leopold!
Beautiful song. Ok,I hurt my back last weekend so Madonna thank you very much ,these previews ease off my back pain and cheer my mind up, love you my queen!
This is very nice song...
Original and Honest. very compelling and pulls at the heart strings. Great Song by a one in a million Babe. and BTW haven't we all Fucked up more than once? She has the moxie to say it out loud. never stop loving Madonna! Bret
Yes, it's sincere, it's emotional, it's confessional, a masterpiece. Great lyrics in a song about a human being.
This song is amazing! I love her voice, the sound and the lyrics.. A personal and deep song! It's one of my fav!! I was almost crying while listening to it..
... & who ever says it isn't true, THEY'RE FUCKED UP ... Liars!
This song is soooo beautiful!!!! <3 we are waiting for you in Argentina!!!! I love you!!!!
I like this track, you can hear M's natural singing voice here, so I think those people who keep saying she cannot sing can see from this song that she can :) I can why it's on the 2nd cd though, it probably sticks out a bit as the main body of work is very up and dance-like, I cannot wait! not long now!!
i love it this id yadigar love the new cd
keeping up with your latest news releases daily ICON and this preview is the best so far !! your keeping MDNA fun & exciting for me , so thank you & thank you MADONNA for sharing the new music sooner than later.
sometime I fucked up too. I realised that and was the real compassion towards myself and the others that save me. Forgiveness is what we need to go on and love creating an authentic connection. Beautiful song x
Yeah... That is a number ONE hit. I love this song. I love MDNA!!!!!!!!!
As usual, Madonna has outdone herself and given us a fabulous piece of art......still wondering if this is a sincere apology, or sarcastic.....LOVE IT LOVE HER
beautiful song! bravo M!!!
Newer comments
1 - 15 of 15
Older comments
NEWS ARCHIVES
You are one click away from all of Madonna.com's news stories! Just select a year:
on this day...