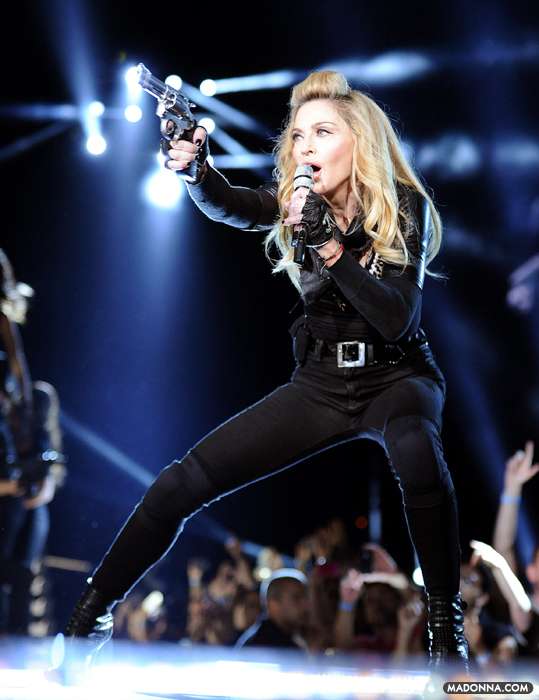 MDNA Tour Photo Gallery
June 06, 2012
You must be a logged-in member to add comments.
How am I gonna get me a pit pass for Madison Square show?
it was a awesome and woderful show!
Can't Wait Maddy! You Are Burning Hot Like a Detroit Rock City Flame! Just Watch You flash that guitar! See You in D.C. in September! A Superstar Forever! Love You Madge! Madonna Forever!
I'll try to go to the 4 shows here in Argentina!!!!!!
She's my super superstar!! 4ever! Love her so much!!!
Once more: AMAZING!!! Can't wait to see again in Zurich. With LUV. M
No matter how many times I see her, she is always dazzling, thumbs up for those who love her :D, in the end of the year here in Brasil Again.... We luv you MDNA
I look forward to the arrival of the Queen to Argentina. Madie I love you!
the only one in the world ehehe luv mdna
I've been staying in front of the Stadium from 6 am, it's been well worthwhile staying close to the pit and seen the Queen performing even better than last tour! Hope to see you again1
OMG... !! 8 WEEKS TO FINLAND TOUR... I LOVE YOU MADONNA <3<3<3
Madonna, Your MDNA Tour is just amazing! And Our Queen looks better than ever! Kiss from Lisbon :) See You in Coimbra!
Its less than three weeks left! The car to Gothenburg is gonna go fast! Cant wait! It´s gonna be a Big Party! As always!
Youtube clips look amazing AND photos are stunning! I'm bringing my family! Everyone has taken vacation time and the hotel is booked! I can't wait for Seattle! We can dance! Because you are the inspiration!
6 days left! I can't wait for the show! <3
just amazing how perfect and beautiful she is. Soooo upset I can't go to watch THE SHOW this year. It's the only show everyone would like to see. She leaves me speechless, that's it. Luv for MDNA!!!!! xxx
The Best Tour of the year.....!!!!
Simplismente DIIVAAAAA!!!!!
MADONNA IS GREAT WHEN ARTIST GO TO MSG ITS A BIG DEAL BUT NOT FOR MADONNA ITS NORMAL TO BE IN MSG AS MADONNA SHES GREAT!!!!!!!!!!!!
Can't wait to see this live!!!
estas s0on las mej0ores imagenes q he vist0o dl c0onciert0oo auuuuuuuuuuuuuuuuuuuwwwwwwwwwwwwwwwwww ya quier0o0 q venga a mexic0o
I SINCERELY THINK ANYTHING SHE DOES EVEN MORE SO WHEN IT'S NEW AND CONTROVERSIAL IS SPECTACULARLY AND AWESOMELY PERFECT. CAN'T WAIT!!!!!!!
Increible la sensacion de verla. Intensidad, es Ella.
Wowww! Great pics! M is at her best. Can't wait to see her again. She's just amazing. If you miss this show you'll be missing the celebration of your life. COIMBRA is waiting for my QUEEN!
I have always thought M was so statuesque,She is one of the most beautiful women in the world.
Newer comments
1 - 27 of 27
Older comments
NEWS ARCHIVES
You are one click away from all of Madonna.com's news stories! Just select a year: