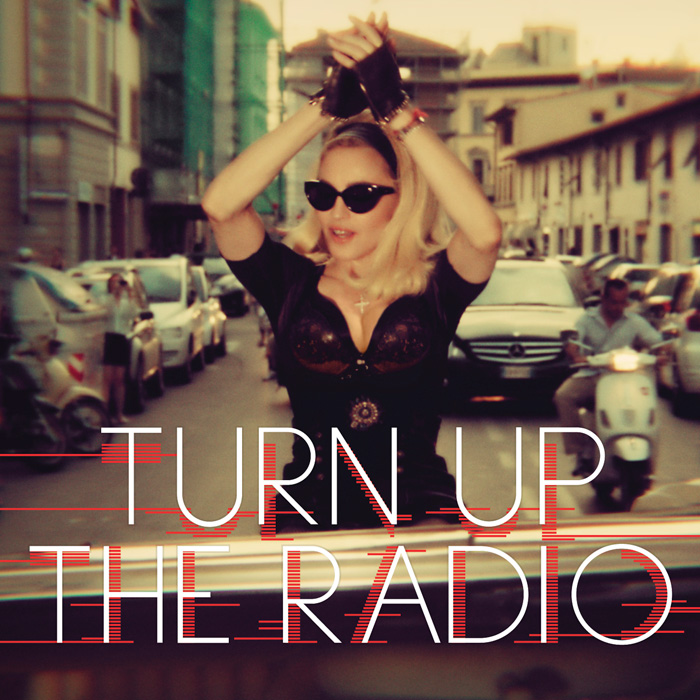 Time to 'Turn Up The Radio'!
July 16, 2012
The full 'Turn Up The Radio' video has just premiered on Madonna's VEVO channel.
Check it out
!
You must be a logged-in member to add comments.
Love the video and the funs following u¡
Hop Madge! Turn Up the Radio is one of your best rockers! Keep Flashing that guitar Maddy and crank that Les Paul Up! Madonna, Namaste! Rock On M! In the Evidence of Your Metal/Rock Brilliance! Detroit Forever!
I love the video!! Madonna, you are the best!! I love the driver btw, so HOT :*
To Madonna, i can't wait to see ya'... your video is soooooo HOT! its boiling. i love your music. Turn up and keep the beat up and running. you re #1
Absolutely luv this playful video ,it's perfect video for summer and Madonna ,you always look so stunning and sexy(you shine like a brightest light). Can't wait for the turn up the radio remixes!
Great song i love it and i hope to listing it a lot on the radio in the netherlands.
U Look Beautiful And Sexy Madge"! And Yeah, not afraid 2 say that Adrien Is very sexy 2" Can't Stop Watching"!
The QUEEN has done it again! Looks beautiful, great song and stunning video! Love you Madonna!
Love It ! queen madge does it again!
Love TUTR! A feel-good and fun song! Makes me smile and happy! Letting everything GO! Madonna looks FAB in the video!!! Stunning! LUV M 4EVER!
Madonna is fantastic and the video Turn up the radio is a very good song of MDNA.
excellent!!!madonna looks very beautiful!!
Madonna is very sensual in this picture. She is at her very best. Maddy you' re the N°1! I love you, Stefano
Amazing song and amazing video...Go on this way my QUEEN...
She looks better than ever and she seems to be enjoying the video making a lot. Italy definitely makes our Queen fell great !
Beautiful and fun... Madonna looks beautiful..Just stunning!
Magnificent! Great video and song. L.U.V Madonna! The Queen of Pop forever!
She looks better than ever!!
Newer comments
1 - 19 of 19
Older comments
NEWS ARCHIVES
You are one click away from all of Madonna.com's news stories! Just select a year: